ICELAND IS A WORK OF ART
LANDIÐ ER LISTAVERK
Jon Gustafsson Icelandic film director, writer, producer and photographer shows us Icelandic landscape like few have seen it. Through his areal photography Jon manages to skillfully, elegantly and masterfully portray the many monumental presences within the Icelandic landscape as well as do perfect justice to the more subtle nuances that can be found within this enigmatic landscape that is his subject. 80 pages of artistic aerial photographs of Iceland. Size: 31 x 21 cm (12 x 8.2 inches).
JON GUSTAFSSON – FILMMAKER – DIRECTOR – WRITER – PRODUCER – PHOTOGRAPHER
Jon Gustafsson Icelandic film director writer producer studied filmmaking at the Manchester Metropolitan University and directing for theater and cinema at California Institute of the Arts. While at CalArts, Jon was mentored by a legendary Ealing Studios director Alexander Mackendrick. After graduating from the film school Jon Gustafsson directed several Icelandic documentaries, including environmental matters, medical issues, human rights and more. His first feature film, "Kanadiana", was made in Canada with support of Telefilm Canada and Manitoba Film & Music. "Kanadiana" was invited to film festivals around the world, including UK, Ireland, Iran, Egypt and India and won several awards. In Canada Jon made the documentary "The Importance of Being Icelandic" for the CBC. He also directed the music video 'Brighter Hell' for The Watchmen and received the Blizzard Award for it. In 2001 Jon Gustafsson founded the Gimli Film Festival and served as the festival director for the first three years. In 2004 Jon played one of Beowulf's Warriors in the epic film "Beowulf & Grendel" starring Gerard Butler. He made the award-winning documentary "Wrath of Gods" about the dramatic production of Beowulf & Grendel and Gerard Butler became a co-producer of the documentary. Wrath of Gods was invited numerous film festivals around the world and received six awards. It was broadcast by RUV and the CBC. Jon produced the short film IN A HEARTBEAT which has been invited to over sixty festivals all over the world and has won eight awards. He recently directed the short 15 MINUTES WITH THE BOSS which premiered at the Cannes Short Film Corner.  Jon is the owner of Artio Films. His company currently has two feature films in development.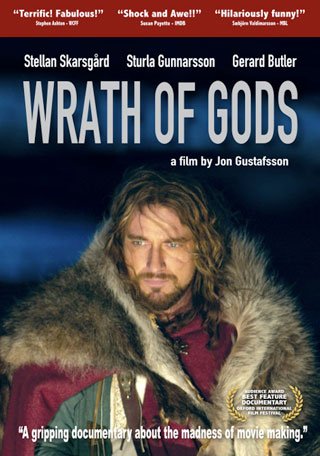 WATCH WRATH OF GODS ON-LINE
Award winning documentary by director Jon Gustafsson about filmmaking in difficult conditions. Includes 2 hours of bonus materials incl. 1 hour exclusive interview with Gerard Butler. Available through WRAHT OF GODS Official Website.
HOLUHRAUN VOLCANIC ERUPTION VIDEO
Iceland Volcano 2014